Ink and Watercolor Artist
My focus is watercolor and ink.
I love the vivid color and transparency.
I am always attracted to the loosest, most colorful piece in an exhibition.
Color enhances mood ...so I try to incorporate it in all my work.

Biography
Sandy Harrington is a native of Ormond Beach, Florida and has painted as long as she can remember. Her background as an artist
began in illustration and advertising for the Daytona Beach News Journal and Hurd Moss Advertising in Daytona Beach,Florida
Her clients included:
Fairgreen Golf and Country Club, New Smyrna Beach, Florida. Old Salty's Inn, Daytona Beach,Florida
I-Care Child Abuse Campaign, Daytona Beach, Florida, PineTrail Elementary School, Ormond Beach, Florida
O'Connell's Restaurant, New Smyrna Beach, Florida, Bentwood Subdivision, Port Orange, Florida
The Daytona Inn, Daytona Beach Florida
Sandy managed a career in real estate while donating her time to Volusia County High School theatre departments.
She produced background and program art for the Children's Musical Theatre in Ormond Beach, Florida, Mainland High School
in Daytona Beach, Florida and Seabreeze High School in Daytona Beach
Her large scale mural work and program designs could be seen in the following productions.
CMT Productions of : Beauty and the Beast, Princess and the Pea, Broadway Melody and Secret Garden
Mainland High School's production of:
Will Roger's Follies, Joseph and the Amazing Technicolor Dream Coat, Wizard if Oz, Madrigal Costuming for Performance Troupe
Seabreeze High School production of: Meet me in St. Louis
Since retiring to Jacksonville in 2014... She has continued to experiment with color both on paper and canvas.

Watercolor
Portrait work in watercolor is by commission.
I prefer Windsor Newton watercolor on clay-board, illustration board or watercolor board.
UV archival protected
Ink and Flow Acrylics
Flow acrylic and alcohol inks are on
clay board, bristol and yupo. I use archival spray for fading.
Resin on Clayboard or Canvas
My larger resin work is on clayboard or canvas .
My collage work is done on canvas with polymer gels
and foils.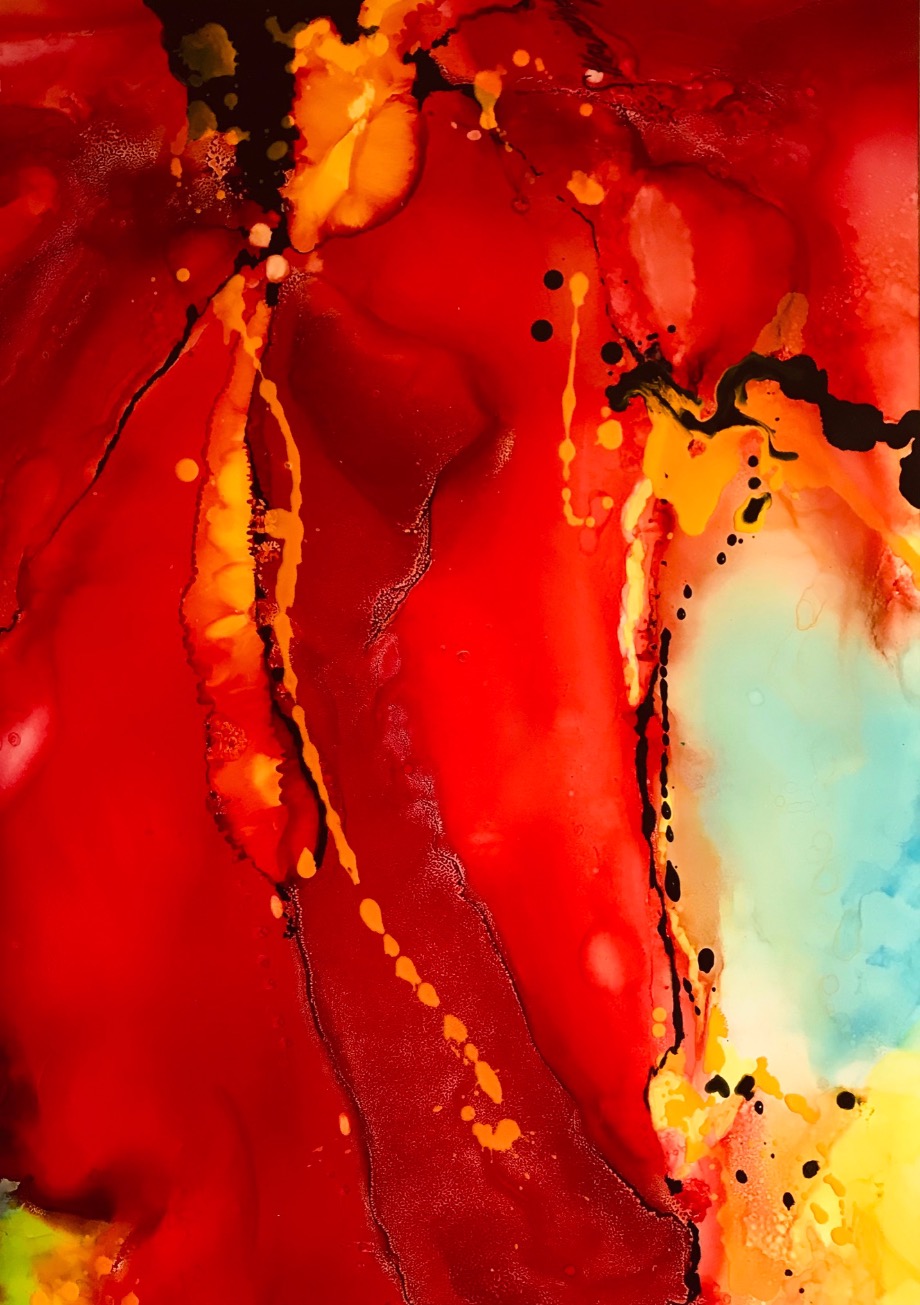 Molten
32x42 Flow Acrylic and Ink
First Place Winner Red Hot Show
The Art Center downtown urban core
2019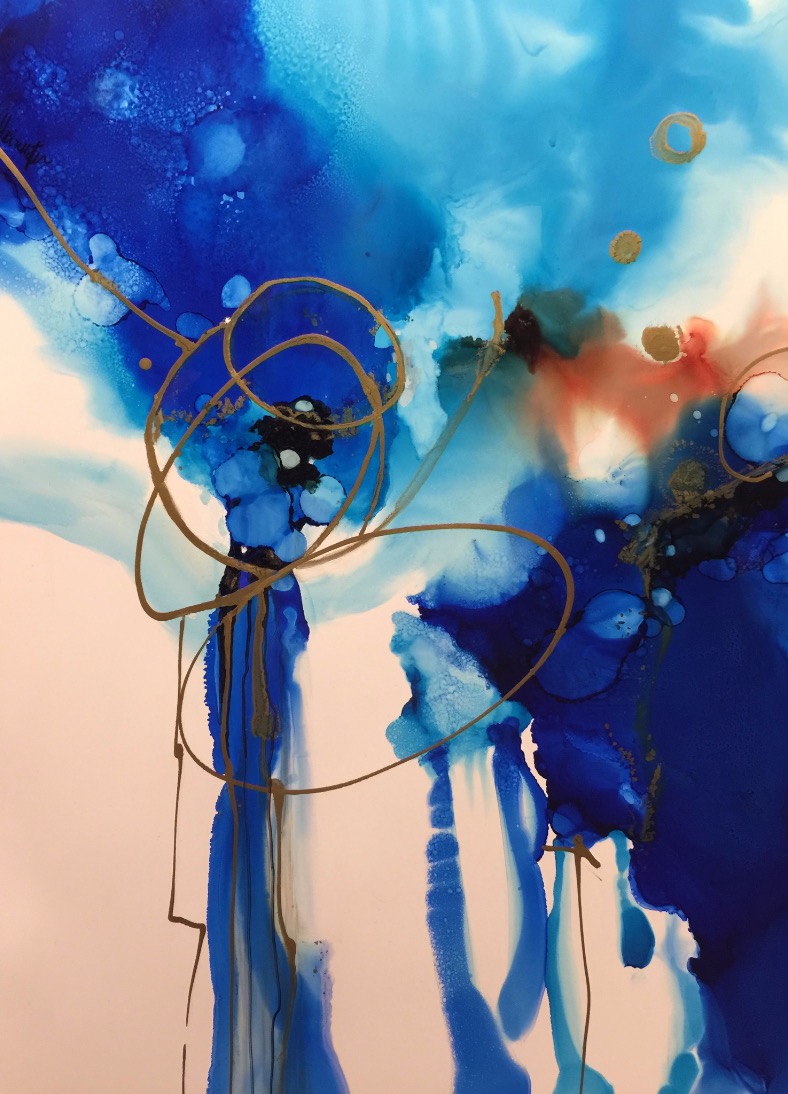 Sputnik
32x36 Flow Acrylic and Ink
Archival varnish under Acrylic Sheet
Smothered in Blue Show 2019
Art Center Cooperative at the Landingsa
Annex Gallery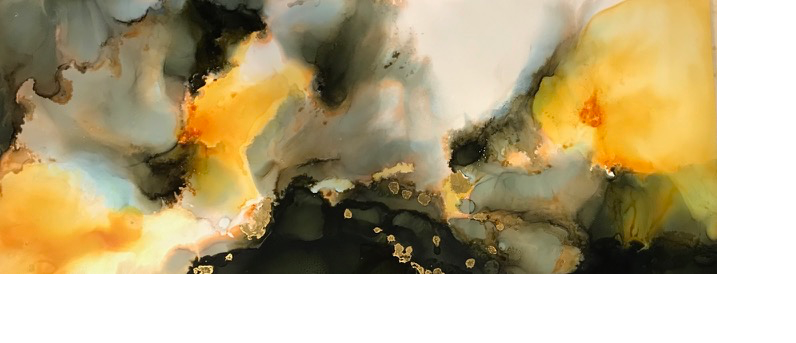 Storm
24x48 Flow acrylic and Ink
Wilson Center for the Arts "Honorable Mention"
South State College, Jacksonville
Archival varnished under acrylic
2019
Curated Shows, Installations and Awards
2019 First Place "Molten" acrylic and ink at curated show "Red Hot" Annex Gallery" Jacksonville The Art Center downtown urban core
2019 Wilson Center for the Arts Honorable Mention "Storm" acrylic and ink South College Jacksonville, Fl JCVA Summer Show
2019 Amelia Island Community Theatre "Brighter Tomorrows" runs during Annie: "Daybreak" resin on clay board and "First Light"
2019 "Women from Jag" Show sponsored by the Jacksonville Art Guild at the Landings "Storm"
2019 Cultural Arts Center at Ponte Vedra Florida Flo Acrylic "First Light"
2018 "Faces" Show Amelia Island sponsored by ACT Community Theatre, Amelia Island Florida watercolor portrait "Angel"
2018 "The Color Purple" FemArts Gallery Neptune Beach Library Florida
2017 First Place "Blue Ice" the The Art Center downtown Jacksonville show "Abstraction at its Best
2017 "Kaleidoscope" a one woman show, Adele Grage Cultural Arts Center, Neptune Beach, Florida
2017 Cultural Art Center at Ponte Vedra "Dual Show" Sandy Harrington and Amy Dove "Fiber and Fire"
2017 Showcase Artist for November Five and Dime a Theatre Company downtown urban core Adams Street
2016 Wilson Center for the Arts "South by Southlight" "Carnival" and "Sunset"
2016 First Place Cork Arts District "Collage Tryptic" sponsored by Southlight Gallery "Pop at Cork"
2016 Honorable Mention "Sunset" Southlight Gallery, Abstract X Summer Guest Series
2016 2nd place "A Closer look" Flagler County Art League
2016 "Featured Artist" Fab Florida Magazine
2015 Cultural Arts Center at Ponte Vedra "Honorable Mention" Study in Red and Blue 2015
2015 "First Place" Art from the Heart "Carnival" Palm Coast Florida at Flagler County Art League
2015 Merit Award "Going Coastal" Palm Coast Florida Flagler County Art League
2015 Deland Museum of Art "Volusia Artist Holiday Showcase"
2014-2015 Hub on Canal Street Gallery New Smyrna Beach Florida
2015 Cover Artist Flagler Magazine 2015 Palm Coast Florida
2015 2nd Place watercolor "Pansies" Every Color has a Story Flagler County Art League
2015 Secca Gallery Palm Coast Florida 2015
2015-2017 Saint Augustine Art League
2015 Archway Gallery "Watercolor Botanicals"
2015 Reddi Arts Jacksonville Arts League Show Hendricks Ave downtown Jacksonville
2015 First Street Gallery Neptune Beach Art Guild Show watercolor "Ginger" and "Crotons"
2015-2016 Jacksonville Coalition of the Visual Arts Summer and Winter Shows
"This piece was absolutely striking. Wonderful flow and composition. The use of red
is truly impressive"
"Molten" acrylic and ink
Red Hot Show "First Place"
Art Center downtown urban
core Jacksonville

Anna Miller 2019
" Her strikingly beautiful work shows how something that's a totally abstract combination of colors can hold a persons attention. The colors drew me in the moment I entered the room"
Abstraction at its Best "First Place"
"Blue Ice" ink and acrylic
The Art Center at the Landings.
Rob Middleton 2017
"This painting drew me in instantly with
it's vibrant colors, serendipitous moments in paint and the deliberate marks made by
the artist. It is fun like a carnival."
"First Place" Carnival
Flagler County Show Palm Coast ,Florida
Tony Wood 2016
"View Kaleidescopic watercolor works
by Sandy Harrington"
The Cultural Art Center
at Ponte Vedra 2017
" Fiber and Fire"
Dual show with Amy Dove
Watercolor portraits by commission. Contact Sandy Harrington Watercolor portraits by commission. Contact Sandy Harrington
June 27, 2019
Watercolor Portraits
Watercolor board and Clayboard
Email me at: sandyharrigton50@gmail.com
Call or text me at (386) 547-4805